Connect us



New User?

Subscribe Now
Confirm your Email ID for Updates
Friday FAQs - GST Certificate Course - 45th GST Council, Recent GST Changes
Friday, September 24, 2021
Voice of CA is starting FAQ series from today on different topics of Tax.
3 Fastest replies with most correct answers will receive mementos.
Read the following questions and send the answers at voiceofca@gmail.com at the earliest.
Questions

1

CGST Act, 2017 extends to the whole of India?

2

Do Does outward Supply include the supply of goods or services by barter?

3

The concept of Goods and Services Tax (GST) is originated in which country?

4

Which constitutional amendment is done to pass the GST bill?

5

What is the Full form of HSN

6

GST is a ________________ based tax.

7

What is the maximum tax rate under GST?

8

Does GST Act define Fake Invoices or Fake Invoicing?

9

Which Section of CGST Act, 2017 deals with mixed and composite supply

10

Under which section of CSGT Act,2017 'PROPER OFFICER' defined?
Webinar On
"4 Days Certificate Course on Critical Issues in GST - Chapter Wise"
by Voice of CA and CA Association from 29.09.2021 to 02.10.2021 (Time 4 PM to 6 PM)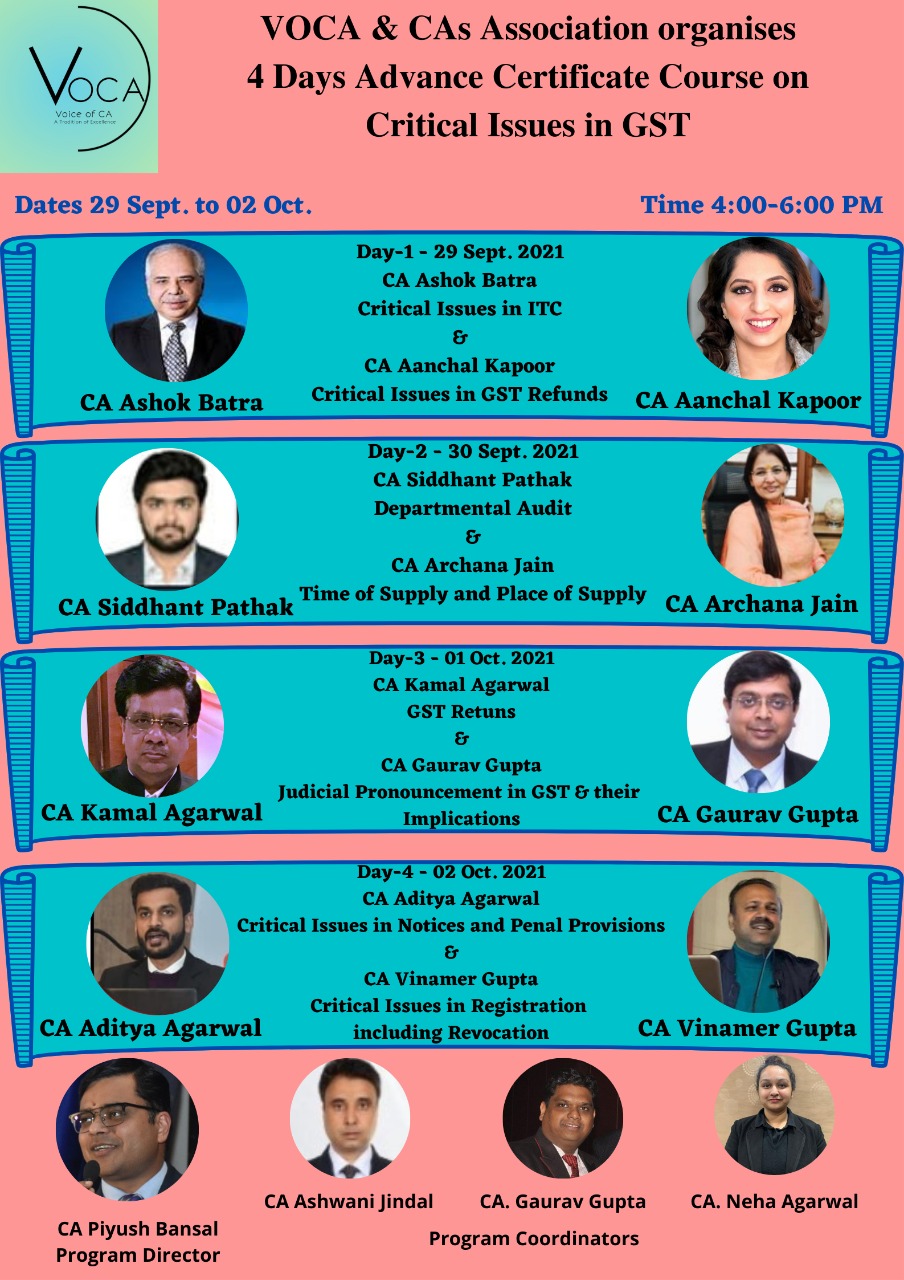 Registration Link:

http://bit.ly/VOCA_GSTC
i) [ Contribution by : CA. Aanchal Kapoor ]
RECENT NOTIFICATIONS/CIRCULARS AND APPEALS UNDER GST
(Please click for detail)

ii) [ Contribution by : CA. Jay Bohra and CA Vidhi Bathla ]
45th GST Council Meeting - Critical Analysis
(Please click for detail)
Connect with us on Mobile App and Social Media by clicking on the links below:
« Back