Connect us



New User?

Subscribe Now
Confirm your Email ID for Updates
Friday FAQs, Job Vacancies and Book on Startup Finance - FINCURIOUS
Friday, December 17, 2021
FAQs on IBC

3 Fastest replies with most correct answers will receive mementos.
Read the following questions and send the answers at voiceofca@gmail.com at the earliest.
S.No.

Questions

1

The Resolution professional shall continue as the liquidator unless replaced by

2

An application for fast track corporate insolvency resolution process shall be filed by

3

The declaration given under voluntary liquidation shall not be accompanied with

4

The moratorium period under the Fresh Start Order process lasts for........ days.

5

The discharge order shall be forwarded to whom for the purpose of recording an entry
in the register?

6

The board shall nominate a resolution professional for the insolvency resolution process within_____ of receiving the direction issued by the adjudicating authority

7

Debtor or creditor for the replacement of resolution professional may apply to

8

Resolution professional is required to prepare list of creditors from the date of notice till

9

A debtor may make an application for a fresh start for discharge of all debts. True or False

10

Who shall prepare the list of creditors after the passing of the bankruptcy order?

JOB VACANCIES

We are adding a column for Job Vacancies in our Friday mailers wherein all the job vacancies posted by our members in 'VoCA WhatsApp groups' and 'Voice of CA - Job Vacancies Faceboook Group' would be collated and shared as a link.

The aforesaid Facebook Group can be utilised by group members for posting / viewing Job Opportunities in relation to our Profession.

Join our Facebook group at: https://www.facebook.com/groups/336705641254235/permalink/336726244585508/

Find this week's Job Vacancies as posted in our associated WhatsApp Groups by clicking on the below Button:




Book on Startup Finance - FINCURIOUS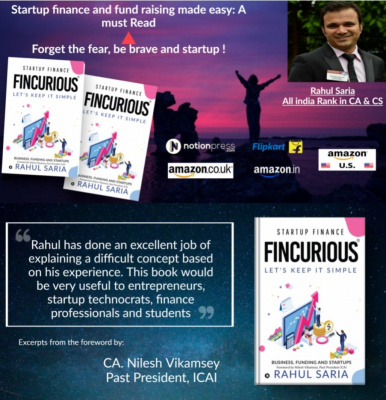 One of our members - CA. Rahul Saria has authored a Must - Read on Startup Finance - FINCURIOUS.

All Voice of CA members will get 25% discount on ordering this book. Use Discount Code "VOFCA" and Grab your copy now (paperback with free e-book) at: https://notionpress.com/read/fincurious


Connect with us on Mobile App and Social Media by clicking on the links below:
« Back