Connect us



New User?

Subscribe Now
Confirm your Email ID for Updates
Upcoming Webinar on TDS New Sections 194-R & 194-S & Clause 44 of TAR | Yoga & Health Wellness Program at Patanjali Haridwar | Useful Updates on CII & Legal Calendar
Thursday, June 30, 2022
Upcoming Webinar:
VOICE OF CA and CAs ASSOCIATION
Presents

Webinar On
TDS New Sections 194-R & 194-S & Clause 44 of TAR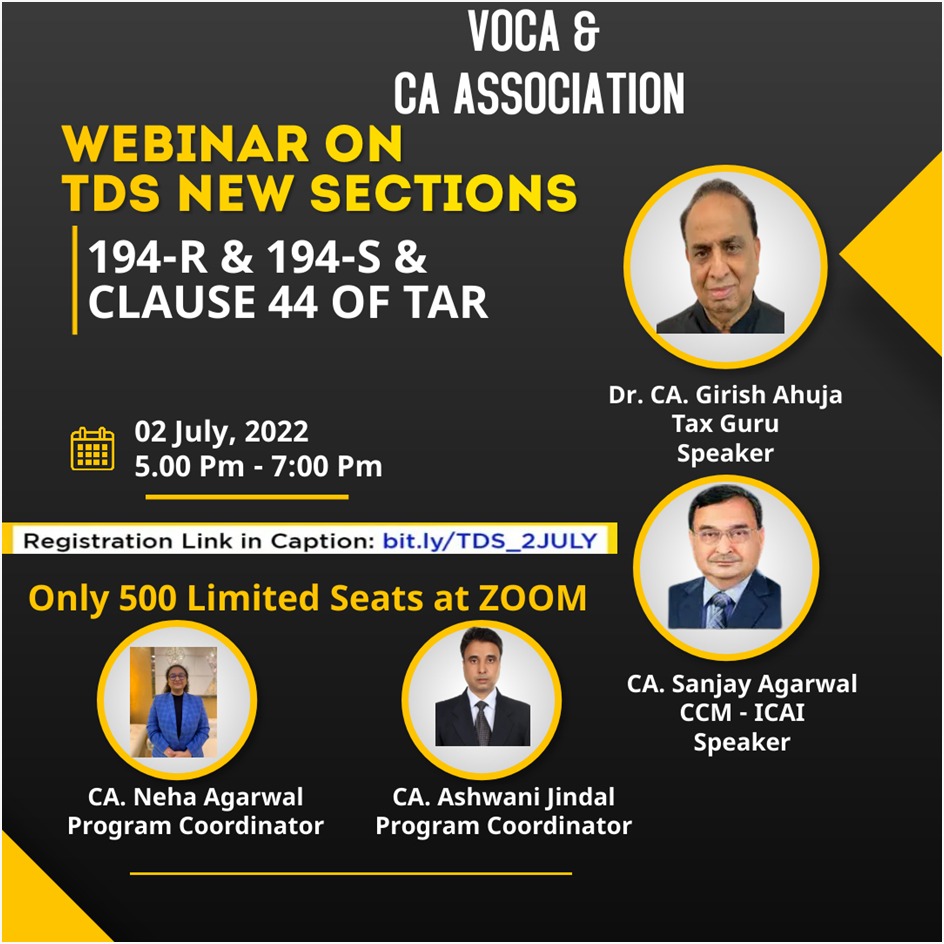 Guest Speaker:
CA. (Dr.) Girish Ahuja Ji (Tax Guru)
CA. Sanjay Agarwal - CCM (ICAI)
Date - Saturday, 02 July 2022
Time - 5:00 PM - 7:00 PM
Registration Link: bit.ly/TDS_2JULY
---
Health Wellness,Yoga & Cure Program
by CAs Association at Haridwar
Special Yoga Session with Swami Ram Dev ji
Yoga Wellness Program for the members & their families at Patanjali Wellness Centre Haridwar. This health wellness package includes stay, food, treatment therapies, Special Session with Swami ji for members and many more.
It shall be a 2 night program, The dates are 14-16 August 2022.
Total Cost for 2 days for 2 people will be Rs 12000/-. However, the program shall be partly sponsored by Patanjali, VOCA & CAs Association for members only.
The details will be shared in Wellness WhatsApp Group.
Right of admission is reserved
Interested members are requested to kindly join the following group so that all the details & information can be shared with them at the earliest.
*Registration closing on 02 July , 2022*
---
Useful Updates on CII & Legal Calendar:
[Contributions by CA. Satish Agarwal]
1. Cost of Inflation Index 2022-23
(Please click for detail)

2. Legal Obligations & Legal Updates For India
(Please click for detail)
---
Connect with us on Social Media by clicking on the links below:
« Back