Connect us



New User?

Subscribe Now
Confirm your Email ID for Updates
Webinar on Expat Taxation (Sec. 89) | Professional Updates on WTO, IDT Case Laws | News_24.12.2022
Saturday, December 24, 2022
Quote for the Day
"God is not the sole author of our destiny.
We are the co-authors of our destiny.
If we do the best, he will do the rest.
Else, he will take rest."
---
Webinar on Expat Taxation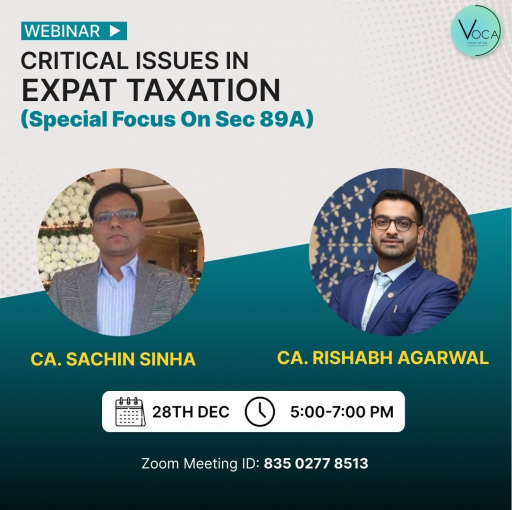 Topic: Critical issues in Expat Taxation & emphasising Section 89A (Relief from taxation in income from retirement benefits account) which was inserted earlier this year.
Speakers: CA. Sachin Sinha and CA. Rishabh Agarwal
Date: 28.12.2022
Time: 5 PM - 7 PM
Registration Link: https://bit.ly/VoCA_28Dec
---
Professional Updates:

[Contribution by CA. Satish Agarwal]

1. World Trade Organization (WTO) Benefits for India Read More

---

[Contributions by CA. Bimal Jain]

1.Charge of the double benefit will sustain only when the assessee claims the refund and utilise the same for payment of duty Read More

2.Primary allegation cannot be added to the SCN by issuing Supplementary Notice Read More

3.Classification of service depends on essential character of service Read More

4.Revenue Department has the discretion to allow/disallow redemption of prohibited hazardous waste Read More

5.ICAI has suo moto powers to initiate disciplinary actions against CAs without written complaint Read More

---

Today's Bulletin:

1.Explanation to Sec. 73 applies if income from other sources is much more than business income: ITAT Read More

2.Furnishing evidence in form of delivery challans, and purchase bills are sufficient to discharge burden of proof: HC Read More

3.Income Tax relief for working professionals: TDS clarity to tax slab change – what to expect from Budget 2023 Read More

4.SEBI publishes Consultation Paper on strengthening the Investor Grievance Redressal Mechanism in the Indian Securities Market by harnessing Online Dispute Resolution mechanisms Read More
Connect with us on Social Media by clicking on the links below:
« Back