Connect us



New User?

Subscribe Now
Confirm your Email ID for Updates
Useful book on TDS/TCS | Professional Updates on UAE Corporate Tax Law, CBI & GST | News_05-05-23
Friday, May 5, 2023
Quote for the Day:
"True people and well wishers in our life are just like stars.
They constantly shine but often we do not see them until the dark hours come in our life"
---
Useful Book on TDS/TCS:
It is a matter of great pride for all of us that our senior member CA. R S.Kalra, who is also the Co-Founder of the Voice of CA, has written exhaustive book on tedious topic of TDS "PRACTICAL APPROACH TO TDS & TCS".
TDS and TCS have very wide practical application and there are many issues that various persons come across which are peculiar at times, but Mr. Kalra has tried to cover all in this single book.
The book has been foreword by CA. Sanjay K. Agarwal, Founder of Voice of CA and it has been published by renowned Bharat Law House Pvt. Ltd.
Here below is the cover page of this book: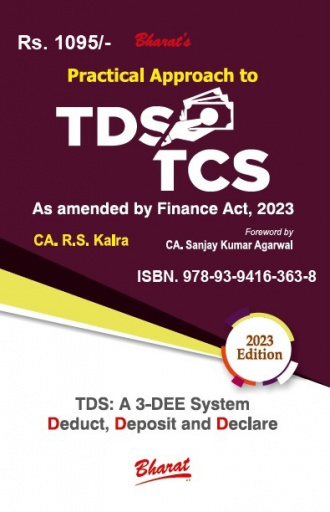 ---
Recent Update on UAE Corporate Tax Law - An Analysis:
A very useful analysis on Ministerial Decision No. 43 of 2023 on Exception from Tax Registration for the purposes of the Corporate Tax Law. by CA. Rishabh Agarwal s/o CA. Sanjay K. Agarwal [Founder - Voice of CA] and CA. Bharat Bhutani.
Pl. click below button for the analysis in a snapshot::
---
Professional Updates:

[Contributions by CA. Satish Agarwal]

1. 255 FAQ's on Statutory Powers of Central Bureau Investigations (CBI) in India Read More

[Contributions by CA. Bimal Jain]

1. ITC can be claimed during revocation of cancelled GST registration Read More

---

Today's Bulletin:

1. GSTN issues new advisory for timely filing of GST Returns Read More

2. Practicing CA/CS/CWAs under the scanner with new PMLA amendment Read More

3. MoF permits 22 reporting entities to perform authentication under the Aadhaar Act, 2016 Read More
Connect with us on Social Media by clicking on the links below:
« Back