Connect us



New User?

Subscribe Now
Confirm your Email ID for Updates
Webinar on Clause by Clause discussion on revised Audit Form 10B & 10BB | Useful Book on Taxation Regime For Online Gaming | Professional Updates on GST & Corporate Tax_27-06-23
Tuesday, June 27, 2023
Quote for the Day
"Problems are common to all
but attitude makes the difference"
---
Webinar
Topic: Clause by Clause discussion on revised Audit Form 10B & 10BB
Date: Today on 27.06.2023
Time: 5-7 PM
Speakers: CA Deependra Mohan Garg
CA. Dr. Girish Ahuja Ji, Tax Guru shall inaugurate the Tax Audit & Other Income Tax Audits-Interaction Helpline by VOCA & CAA.
Every Week on Tuesday starting from 4th July will continue till 26th September
The period is divided into 2 parts the first 20 minutes talk shall be initiated by the panelist of the day and in the next 20 minutes discussion & query resolving of members relating to Tax Audit, Form 10B, ITR Forms.
Fee: Nil
Click below link to register for this Webinar as well as all the forthcoming weekly interactions:
Zoom Link: http://bit.ly/CAA_TaxAuditPeriod
---
A Useful Book
It is matter of great pride that CA R S Kalra from Jalandhar who is also Co founder of Voice of CA has written a book titled Taxation Regime For Online Gaming. In this book, CA Kalra has explained the legality and future of online gaming in India. He has also explained in detail the taxation of winnings from online gaming u/s 115BBJ and TDS provisions u/s 194BA of Income Tax Act.This book has been published by M/S Bharat Law House Private Limited New Delhi and has been foreword by Renowned CA Ashok Batra Ji.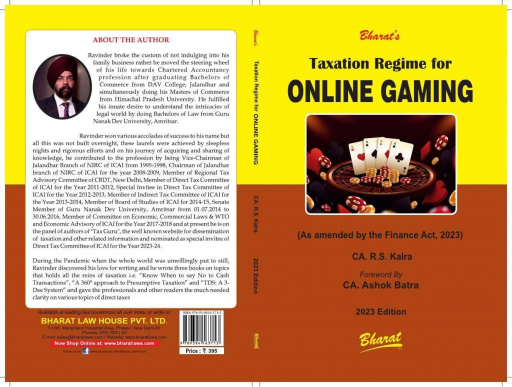 ---
Professional Updates:

[Contributions by CA. Satish Agarwal]

1. 21 FAQs on Taxation Laws for Foreign Corporate NRIs NRs in India Read More

[Contributions by CA. Jay Bohra]

1. GST & Corporate Tax Tabloid covering all major tax updates in the GST & Income Tax law for the week Read More

[Contributions by CA. Bimal Jain]

1. SCN lacking specific reasons is liable to be set aside Read More

2. Rent received by Individuals owning Property jointly cannot be clubbed to impose service tax Read More

---
Connect with us on Social Media by clicking on the links below:
« Back